The Three Foot Effect
Wine and spirits labels build brand recognition and encourage engagement.
It starts three feet from the shelf. Your eye focuses on the label, taking in the images, the colors, the brand, even the texture of the substrate and whether special treatments—such as metallic inks or embossing—have been used. And when it's done right, the engagement begins.
This initial connection is a critical moment. And while the brand and contents of the bottle are important, the design and visual impact of labels used on wines, spirits and craft-brewed beers can be critical to the purchase decision. As brands expand the flavors and styles available, brand owners, converters and substrate suppliers alike are rushing to create quintessentially ideal labels with on-the-shelf appeal to engage a customer in those ephemeral seconds of visual contact, while conveying the branding and 'buy-me' message that results in a sale. But what kind of labels do the best job?
Thin is clearly in
For spirits, that eye-to-shelf gap is where thin labels can stand out and even be mistaken for direct printing on the bottle, especially when the substrate is sufficiently thin that its edges (called a halo) are hard to see. "There's a growing trend to use clear labels on spirits such as gin and vodka," says Trevor Richardson, market development manager at UPM Raflatac Americas. This is accelerated by the growth of flavored versions of clear spirits, especially vodka, which has become the go-to choice for adding flavors that sometimes seem more at home in a gelato or ice cream shop.
"The store shelf is a real battlefield," Richardson continues. "Brand owners are going after new consumers, especially Millennials, with an expanded range of flavors. At the same time, they are seeking to build brand loyalty and recognition." And labels are the troops on the front lines.
In this environment, clear labels provide substantial flexibility. Mostly pressure-sensitive, they can be applied easily, offer a level of conformability for different container shapes, and can be more easily diecut to accommodate irregularly shaped designs than many paper-based labels. These traits are a main reason the no-label look is also showing up on bottled water, sauces, condiments, and many personal care products, especially those using rigid plastic containers.
Despite this, clear labels on wine bottles are less common, although some white wines now bear clear labels or direct printing, perhaps in an effort to gain eye appeal and provide differentiation from competing products with more traditional labels.
Cold and wet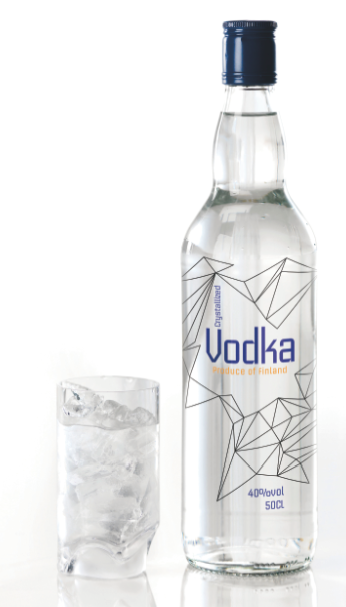 A key challenge, especially for beers and white wines, is the ability of a label to withstand cold and wet conditions. About the last thing the brand owner wants is for a label to come off a bottle that's been doing time in a cooler or ice bucket. Selection of substrate, coating and adhesive is critical.
"Being able to survive an ice bath, maintain wet strength and not decompose or come off the bottle are key criteria," says Hugh Lenz, business development manager for beer and beverage label and packaging materials at Avery Dennison. This is a relatively easy goal for many glue-applied paper labels, and the solutions are well known. Clear labels, often made of BOPP or PET films, would seem immune to such concerns, but there is one caveat: the adhesive must be impervious to whitening (typically at the edges of the label) when exposed to moisture. Not all adhesives are up to the job, so be sure to talk with your substrate provider to be sure the adhesive on the label stock is right for the application.
Bottles aren't what they used to be
Converters printing labels for wine and spirits must also contend with the quality of the bottle. In the interest of cost control, many wine and spirits bottles are increasingly sourced from outside the US and Europe, and quality control can be less than ideal.
"Declining bottle quality is a fact of life, making it important to know where a bottle comes from," affirms Frank Lamas, account executive at WS Packaging Group in San Luis Obispo, California, where wine labels account for a large share of the company's business. "Many bottles have imperfections, such as not being truly round or having tiny pits in the surface that can pose problems when labels are applied."
A paper label, either pressure-sensitive or glue-applied, can often cover up flaws in the bottle glass, and the new generation of very thin clear substrates can also accommodate less-than-ideal glass surfaces. Most of these challenges are already known to converters, who have developed their own workarounds and know which substrates will satisfy brand owners' needs.
Large and tactile
For all the visual appeal of the no-label look for spirits, most wines still rely on paper labels. These range from simple square or rectangular designs for many generic wines to highly detailed and beautifully executed labels on pricier offerings. The latter range from three or four inches square with a variety of embossed and metallic effects to larger, high-impact art that snags the shopper across that critical three-foot gap, engages with some tactility, and may even add a story that incites interest and encourages the purchase decision.